The Top Rose Color Meanings You Should Know
If a picture is worth a thousand words, then fresh roses are worth a million. For many years, roses have remained one of the most popular types of flowers for weddings, events, special occasions, holidays, and more. This universal flower comes in a variety of shades, so how do you know which rose color you should pick? After you've taken your color palette into consideration, you may want to think about rose color meanings, and what each rose color symbolizes. Understanding flower color meanings will add an extra layer of emotion to your arrangements. Plus, when your blooms align with the message you're trying to convey, you'll feel more personally connected to them!
Here are some of the top rose color meanings you should know before ordering your flowers:
Red roses symbolize all those things that make a love story great: Passion, desire, true love, and romance. It's no wonder why the red rose has become a classic Valentine's Day flower! In a bridal bouquet or other wedding arrangements, red roses can represent newlywed bliss and mutual respect and appreciation between the couple. In deeper shades, such as burgundy, red roses signify a desire for commitment and a passion for that special someone. If you're wanting to say those three magic words, red roses are a tried-and-true way to tell someone: "I love you!" With such a classic look, red roses look great with all types of flowers, however, they look especially beautiful with other romantic flowers such as baby's breath.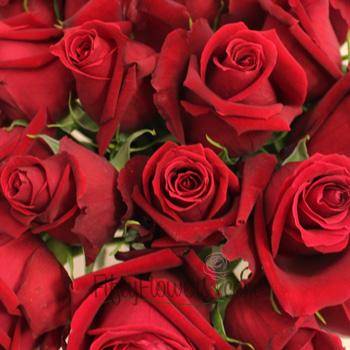 The vibrant orange rose speaks for itself as it represents fascination, enthusiasm, desire, and energy. Orange roses also symbolize admiration and excitement, making them the perfect gift for your loved one after a big accomplishment. With such a positive and encouraging meaning, orange roses can be used in many ways. Give an orange rose bouquet to someone when you want to say "I'm proud of you" or place them on your desk for extra motivation. Orange roses in your wedding flowers will also add a burst of energy. If you love the meaning of orange roses but are looking for a more muted color, opt for salmon or coral roses which convey a similar message! White flowers such as lilies will create a beautiful contrast with these blooms.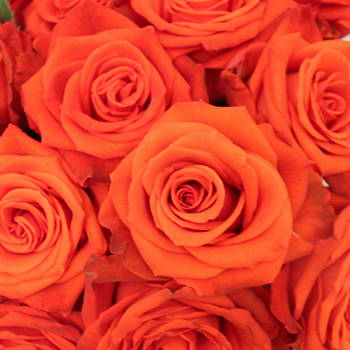 Yellow roses symbolize friendship and joy. They are also used to represent those feelings that are associated with friendship such as warmth, delight, gladness, caring, and affection. These blooms were once used to communicate jealousy, during the Victorian era. Today, the meaning of yellow roses has evolved to represent more cheerful concepts that match their bright color. These blooms can be used to say a number of things such as "remember me," "good luck," or "welcome back, making them a great gift for a friend who needs a little positivity. You can also order yellow roses for your wedding flowers to add a little bit of sunshine and friendship to your big day! Pair this rose color with sunflowers to create a vibrant arrangement.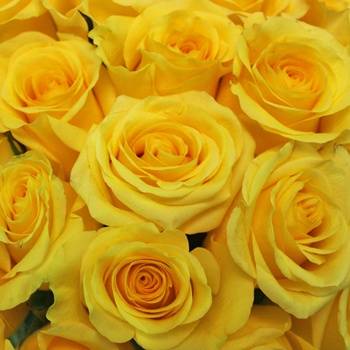 The meaning of green roses is all about life, growth, and abundance. Green roses symbolize renewal, fertility, and rejuvenation of spirit and energy. They are associated with plentifulness and richness. Their green hue also evokes feelings of balance, stability, and peace. Send green roses to a new mother, or to anyone else who is celebrating new life and abundance. These blooms will symbolize a flourishing marriage on a wedding day while also bringing a sense of peace and rejuvenation to each flower arrangement. Pair these fresh roses with spider mums in a similar color.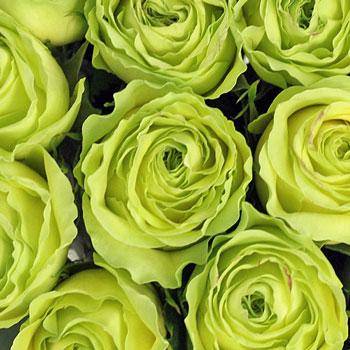 Blue roses symbolize mystery, and their unique hue is perfect for celebrating those who aren't afraid to be themselves. These roses are known to symbolize the impossible or the unattainable, so gift them to someone to say "reach for the stars" or "dream big!" Are you looking for "something blue" on your wedding day? The distinct hue of these flowers will add a touch of color to your big day while also evoking feelings of mystery for your guests. These fresh roses are so striking that they look great all on their own. They also pair well with fresh eucalyptus or white hydrangeas.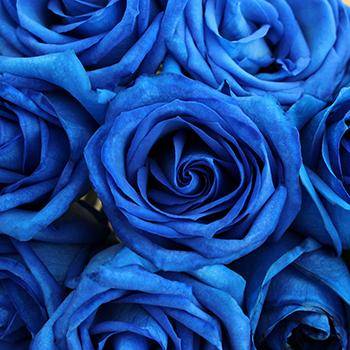 Lavender roses represent enchantment, splendor, wonder, and mystery, making this rose color meaning especially inspiring. The whimsical lavender hue is also associated with love or enchantment at first sight! If you're wanting to show that special someone that they've caught your attention, lavender roses are the perfect flower gift to flatter them. In terms of wedding roses, these blooms are a romantic choice to symbolize how enchanting and wonderful true love can be! Lavender roses look lovely with purple carnations.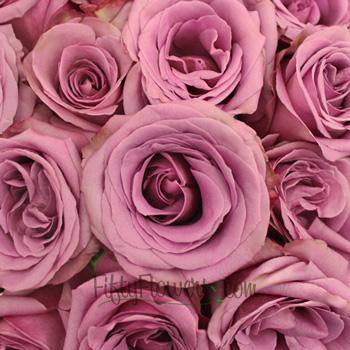 Pink is one of the most popular rose colors, but what exactly is the meaning of a pink rose? These blooms are symbols of elegance, refinement, sweetness, and femininity. Pink roses are fit for royalty! With so many shades of this rose color, the meaning can actually vary between light and darker hues. Deep and hot pink roses convey appreciation, gratitude, and recognition, making them a great way to say "thank you!" Light pink roses are more often associated with grace, gentleness, joy, and happiness. Use these flowers on your wedding day to add elegance and grace to your flowers, or gift them to a loved one to show them just how sweet you think they are. If you're looking for the perfect addition to your pink roses, consider adding peonies to the mix!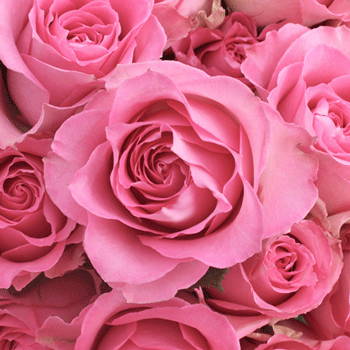 Peach roses hold special meaning because they convey a sense of sincerity, genuineness, modesty, and gratitude. A bouquet of peach roses is an appropriate gift for saying "thank you." They also show gratitude after a business deal or communicate sympathy to a loved one. Their down-to-earth hue is representative of modesty and will add a touch of sincerity to your wedding flowers. Of all rose color meanings, we love the genuine and sweet message these blooms convey in both flower gifts and wedding flower arrangements. Add ranunculus flowers to your peach roses for a soft and delicate look.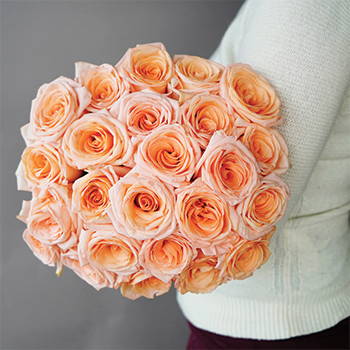 This rose color meaning can be interpreted in several ways. While the color black has been used to signify death and mourning, making them a common choice for funerals, black roses can have a more positive meaning as well. New beginnings and major changes are common meanings for black roses. These dark and mysterious blooms can also bring confidence, hope, and courage by signaling the start of a new era. These blooms are a bold and mysterious choice for wedding roses and make a great gift for those who are needing a burst of courage as they approach a new season. Dark red garden roses would look luxurious alongside these black flowers.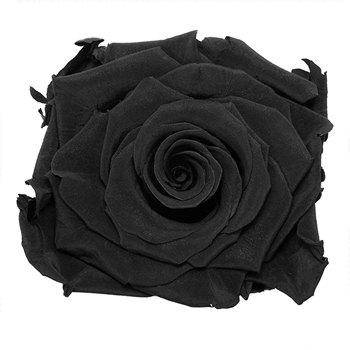 White roses symbolize purity, youthfulness, and innocence. Young love, eternal loyalty, and new beginnings are also commonly tied to the meaning of white roses, making them a popular choice for weddings and romantic occasions. Their ties to eternal love make them an amazing flower gift for your spouse or significant other. Pair white roses with beautiful greenery such as Italian Ruscus to create a dreamy white flower arrangement.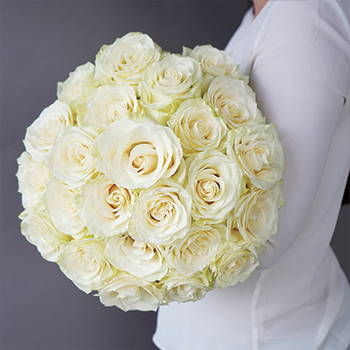 The meaning of ivory roses is surprisingly different from white roses. These blooms symbolize thoughtfulness, gracefulness, and charm, making them ideal for the significant other or loved one who embodies these traits. This rose color also communicates richness and perfection. Ivory roses are a great way to show someone that you care without communicating as much romance as white roses. Pair these roses with fresh eucalyptus for a stunning effect.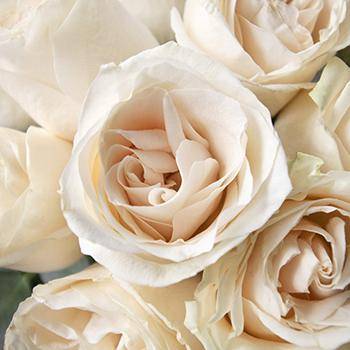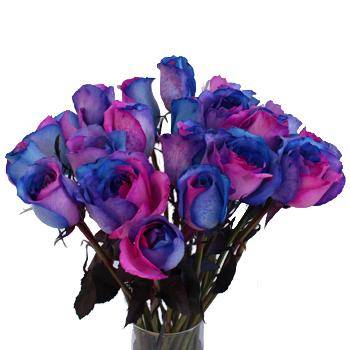 Another way to convey multiple rose color meanings is to mix and match a variety of colors in your arrangement. Combining a mix of colored roses can help you symbolize more than one message. For example, a combination of red and white roses symbolizes passion and everlasting love. This is a perfect combination for wedding flowers or a romantic gift. This is a great option for those who can't choose just one rose color!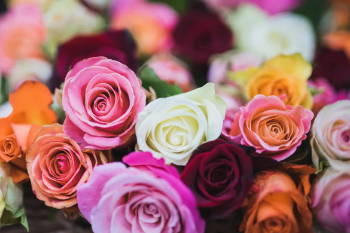 Understanding rose color meanings is a great first step to creating the perfect flower arrangement for your special occasion, flower gift, or event. You can use fresh roses to communicate just about any message that you would like! Shop our wholesale roses, available in every color and multiple varieties, and get free shipping on all orders! From garden roses to spray roses, and even preserved roses, FiftyFlowers offers fresh roses in multiple styles. You can even order tall, six-foot roses for your proposal or special event! For more rose inspiration, follow us on Instagram, Pinterest, and Facebook.